TLC Whole Life Puppy Food provides holistic, biologically beneficial nutrition to support your puppy's growth and development.
Made with wholesome ingredients and super foods including farm-fresh herbs, fruits and vegetables along with probiotic cultures and powerful antioxidants. TLC delivers the ultimate balance of quality meats, animal fats, vitamins and minerals to mirror your puppy's natural diet. Our recipe includes DHA/EPA rich salmon oil for cognitive and heart health, and balanced calcium & phosphorus levels for correct skeletal development.
Meat First – Ancestral Diet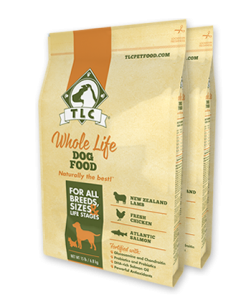 Fresh, Whole Natural Ingredients
Ingredients and Food Naturally Preserved
Probiotics (Beneficial Bacteria) and Prebiotics
Protection Against Diabetes & Obesity
Healthier, Shinier Coat
Protection Against Allergies
No By-Products, Corn, Wheat, Fillers
No Artificial Flavors or Colors
They make small, frequent batches to insure that you get the freshest food possible. The TLC food that you get delivered to your door is FRESH. Some store-bought pet food could be anywhere from 6 months to a year old.
Contains NO by-products, NO corn or corn gluten, NO wheat or wheat gluten, NO dairy, NO artificial colors, flavors or preservatives.
With quality ingredients working synergistically with one another, you can be certain that you're providing the very best for your companion animal.
Key Features Of TLC
Meat First Formula – New Zealand Lamb, Fresh Chicken & Atlantic Salmon
With New Zealand Lamb, Fresh Chicken and Omega-3 rich Atlantic Salmon, providing essential amino acids, digestibility and palatability.
Includes the TLC Whole Life Puppy Herbal Pack™
An exclusive all natural, antioxidant-rich blend of herbs, fruits and vegetables to promote healthy digestion and help protect against disease and inflammation.
Probiotics & Prebiotics – Whole Life Intestinal Health
Probiotics are dietary supplements containing beneficial bacteria, intended to help your puppy achieve a naturally occurring balance of bacteria, thus promoting digestive health. TLC Whole Life Puppy Food includes four varieties of probiotics.
Prebiotics are dietary supplements that the provide nutrients for the Probiotic beneficial bacteria. TLC Puppy contains Chicory Root Extract to provide ideal nutrition for the beneficial bacteria found in TLC.
A Solid Start On Whole Life Nutrition
TLC Whole Life Puppy is formulated to give your puppy an easy transition to TLC Whole Life Dog Food. TLC Puppy is the beginning of your puppy's life long nutrition.
Healthier, Shinier Coat
TLC Puppy has the top ingredients for skin and coat health, including the best animal fats, omega-3 rich salmon oil and the Herbal pack of essential natural nutrients.
Protection Against Allergies
TLC Whole Life Puppy does not contain any of the more common allergens such as corn, soy beans, wheat or beef. TLC is specially formulated to provide an allergy-free diet for your puppy.
No By-Products, Corn, Wheat, Fillers, Artificial Flavors or Colors
TLC Whole Life Puppy contains no by-products, potato, corn, wheat, soy, fillers, artificial flavors or colors. No compromise!
List Of Superior Ingredients Beyond The First
Guaranteed Analysis
High Quality Proteins
Carbohydrates
Fats & Oils
Vitamins and Minerals
Probiotics
Vegetables and Fruit
Herbs and Amino Acids
Guaranteed Analysis
Crude Protein (min)28.0%
Crude Fat (min)17.0%
Crude Fiber (max)5.5%
Ash (max)8.7%
Moisture (max)10.0%
Calcium (min)1.5%
Phosphorus (min)0.95%
Zinc (min)170 mg/kg
Vitamin A (min)12,100 IU/kg
Vitamin D3 (min)1,100 IU/kg
Vitamin E (min)135 IU/kg
Vitamin C (min)80 mg/kg
L-carnitine (min)100 mg/kg
Omega-3 (min)0.57%
Omega-6 (min)2.5%
DHA (min)0.06%
Metabolizable Energy: 450 kcal / cup
TLC Whole Life Puppy Food is 100% complete and balanced and does not require the addition of supplements.
Formulated to meet and exceed the nutritional levels established by the Association of American Feed Control Officials (AAFCO) Dog Food Nutrient Profiles for Growth.