Alaskan Malamute Litters 
Griz and Siena are due around the 21st of May. We do have another breeding coming real soon on the alaskan malamutes. This is the order of deposits. At this time we are not sure white litter each person will be getting from.
Deposits in order
1st Male Lousi Giovacchine
2nd Male Beth Smith
3rd Male Alexa Meier
4th Male Paul Miner
5th Male Rob Neiss
1st female Marsha Heilman
2nd female Alexa Meier
3rd  Female Paul Miner
4th  Female Jeff Martin
5th Alicia Parker
6th   Rob Neiss
Shiba Inu Litter due.
Chase and Molly are expecting. The litter should be here around the 27th of May. At this time there are no deposit.  Since order goes in line of the deposits be the first pick by putting your application in right away . Shipping is extra and Tax of 6.75 percent if Ohio resident.
1st  pick Kerri Bauer
2nd pick Shiba Inu's Jenna Stickney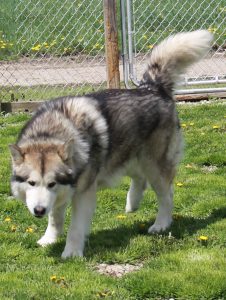 Echo and Griz litter due the 6th of July.
.
Griz and Naomi