We have puppies
All our pups are AKC registered, come up to date on shots, they are also microchipped and come with sample of dog food , lead and collar and instructions. Because our dogs are raised inside with outside access they start learning to go outside through a dog door at around 5 weeks of age. Our pups are kept in a heated and air conditioned building.
As newborns, they are raise on surfaces where they do not have to slip around and we keep rugs ( washable and slip resistant under them until they get at least 6 weeks old. We take the mom away from pups at about 6 weeks of age so that they get use to eating and not just nursing. We start feeding our pups mush at 2 weeks of age and the mom is wormed every other week and the pups ever other week starting at 3 weeks old on pups. I have 27 years of breeding experience. I have found over time we works best with my mom's and pups. I sit with my mom's when they or in labor and all the pups are handled daily.
Visitors are welcome with an appointment. We take pride in giving our dogs and pups the attention they need so we have to limit visits to an hour or less. The first pick must pick out their pup by 5 weeks old. After that pick it goes to the next in line. Puppies can be picked out in person or we post pictures weekly of pups that are available. We no longer offer flights. Any puppy sold must be picked up. The remainder can be paid at pick up or if shipped it must be paid by 6 weeks of age. All checks must be submitted 7 days prior to pick up. We allow our deposits to go through paypal but we do not any longer allow the remainder to be paid paypal
Oh March 8th Echo had a litter from frozen sperm of our past Male Diesels. I plan on keeping the females so that leave 5 males that I will be placing. This litter produces some large Alaskan Malamute. Diesel is almost 11 years old and he is still 170 lbs and is now retired and living in Wisconsin. These pups can only go to homes that knows the breed, can handle a large Malamute and have to room for one of them. Contact me on prices. I will post pictures at a week old. All are black and whites with the exception of one gray and white male. ALL ARE SOLD
1st male Mark Maguire
2 nd Male Ron Zate
3rd Ken Fenneuff
4th Jamie Hearlihy
5th and last Geoff Woodward
At 5 weeks Ready to go to new homes First week of May All pups are Sold
Naomi and Saber Wolf puppies Born April 8th 2021 . We will update at one week.  All we have left are 3 females.
Total in litter 4 males and 5 females.
1st pick male Mark Simon
2nd pick male Adam Geer
3rd male Jessica Ferrick
Last Male Lori Hartzler
1st pick Female Shelly Haswell
2nd pick Elaine Fernandez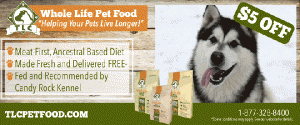 Don't forget to register your pet.